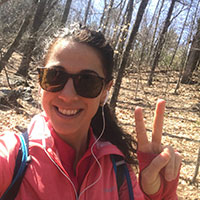 Diana DiZoglio's

March Across Massachusetts
Diana DiZoglio is walking across the entire state of Massachusetts, with a goal of raising $1,000 per mile for the Methuen Youth and Community Center! Every dollar goes towards this capital campaign. From the bottom of our hearts, thank you!
Our mission is to create a cohesive program for youth (ages 12-25) that builds knowledge, skills, and resources that adequately prepares young people for a fulfilling future beyond school.
Read Diana's story
Like and follow Diana's march on Facebook!
With as little as $5 you can donate now to sponsor Diana's March Across Massachusetts!
Charitable donations
Dennis & Marilyn McCarthy
Christina Covino
Tricia Powers
Bill Greilich
Chenghua She
Lauren Rosenbaum
Rachel Voiland
Jack Rummel
Maureen Pollard
Barbara Donaghue
Tim Guyotte
Jonathan Butler
The Paleologas
Ivan Elias
Bud Jackson
David Tibbetts
Chilezie Nnadi
Ralph Prolman
Frank Cann
Ed Johnson
Catherine Marie DeBurro
Mary Jacobsen
Bob Armstrong
Neil Perry
Andrew Firmin
Jonathan Campbell
Kathleen Hayes
Lauren Rosenbaum
Rachel Voiland
Edward Mckinnon
Jack Rummel
Maureen Pollard
WSH Appliance Service
Michelle Bibeau
Christopher Casey
Jana DiNatale
Raymond & Yvonne Paplaskas
Bill Taylor
Anthony Corrado
Andrea Egmont
Matthew Juros
Neil Rosenberg
Elecia Miller
Pilar Quintana
Tiffany Learned
Todd MacFadden
Don Jarvis
Henry Michael Smolak
To sponsor a mile, simply donate $1,000 or more. If you would like to choose the specific mile you are sponsoring, please leave that in the note of your donation.
Sponsorship tiers
Diamond

$1k

Platinum

$750

Gold

$500

Silver

$250

Community

$100