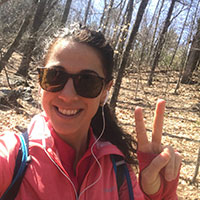 Diana DiZoglio's

March Across Massachusetts
Diana DiZoglio is walking across the entire state of Massachusetts, with a goal of raising $1,000 per mile for the Methuen Youth and Community Center! Every dollar goes towards this capital campaign. From the bottom of our hearts, thank you!
Our mission is to create a cohesive program for youth (ages 12-25) that builds knowledge, skills, and resources that adequately prepares young people for a fulfilling future beyond school.
Read Diana's story
Like and follow Diana's march on Facebook!
With as little as $5 you can donate now to sponsor Diana's March Across Massachusetts!
Charitable donations
Dennis & Marilyn McCarthy
Christina Covino
Tricia Powers
Bill Greilich
Chenghua She
Lauren Rosenbaum
Rachel Voiland
Jack Rummel
Maureen Pollard
Barbara Donaghue
Tim Guyotte
Jonathan Butler
The Paleologas
Ivan Elias
Bud Jackson
David Tibbetts
Chilezie Nnadi
Ralph Prolman
Frank Cann
Ed Johnson
Catherine Marie DeBurro
Mary Jacobsen
Bob Armstrong
Neil Perry
Andrew Firmin
Jonathan Campbell
Kathleen Hayes
Lauren Rosenbaum
Rachel Voiland
Edward Mckinnon
Jack Rummel
Maureen Pollard
WSH Appliance Service
Michelle Bibeau
Christopher Casey
Jana DiNatale
Raymond & Yvonne Paplaskas
Bill Taylor
Anthony Corrado
Andrea Egmont
Matthew Juros
Neil Rosenberg
Elecia Miller
Pilar Quintana
Tiffany Learned
Todd MacFadden
Don Jarvis
Henry Michael Smolak
Jennifer Duggan
Christopher Sheldon
Daniel Marino
Bronwyn Crocker
Jorge Cruz
Susan Mitchell
Carina Pappalardo
Chere Bemelmans
Lane Glenn
Daniel Graovac
Dorothy Fay
Emily Antifonario
David Sakowich
James Diburro
Stephen Gordon
Anne Gobi
Julie Holmes
Joel Faretra
Emily Antifonario
Marianne Paley Nadel
Ron Carpenito
Mike Flynn
Maureen Lynch
Michael Rossi
Joe Bevilacqua
Jennifer Matthews
Alison Miller
Debra McKernan
Penny Hamel
Ryann Abrams
Eleni Varitimos
Sarah Jordan
Jack Witkum
Sharon Suzor
Teddy Panos
Esther Sayer
Irma Gomez
Elizabeth Scammon
Richard Purinton
Tallie Abernathy
Laurie Elliott
Cheri Cousens
Peter Chakoian
Jason Burrill
Lisa Field
Jodie Minahan Lamirande
Michelle Low
Ardith LaRochelle
Marie Comeau
Aaron Poulin
Rick Buck
Chris Slipp
Jessica Brenes
Nancy Marcoux
Holley Mitchell
Lucia Alla
Mick & Shauna Hamilton
Kimberly Moore
Rac Masonry
Eric Poster
Gretchen Arntz
Richard LaRochelle
Ann Carson
D.J. Beauregard
Taylor Buonagurio
Brendon Medugno
Sarah Cantara
Richard Juknavorian
Jim Pinkham
Andrea DiNatale
Bill Taylor
Karen Langley
Divya & Arun Taylor
Caroline Glynn
Patricia Gilmore
Kim Hearst
Tim Sheehy
Lynne Brown
Kassandra Gove
Janet Mclennan
Sheila Och
Thomas Lussier
Jacqueline Laport
Kate Vachon
Brad and Laura Howell
Joe DiPietro
Sid Harris
Brian Raymond
Justin Cann
Alison Riley
Bonnie Firriello
Gail Smeriglio
Diane Bruno
Gratia Gosselin
Mouli Ramani
Deborah Vaillancourt
Donna Morris
Lisa Ferry
Michael Bleiweiss
Martha Reusch
Councilor Tom Sullivan
Michael Solomon
Allison Saffie
Debra Delli Colli
Victoria M. Carr
Elaine A. Barker
Richard D'Agostino
To sponsor a mile, simply donate $1,000 or more. If you would like to choose the specific mile you are sponsoring, please leave that in the note of your donation.
Sponsorship tiers
Diamond

$1k

Platinum

$750

Gold

$500

Silver

$250

Community

$100